PROFESSIONAL AUDIO SYSTEM WITH BLUETOOTH AND KARAOKE
When organizing a house or a garden party, we want the music to be powerful and the sound to be of the highest quality. This can be achieved with the Power Audio APA20system from PRIME3! It is the perfect choice for both younger people who appreciate good fun and for big party lovers.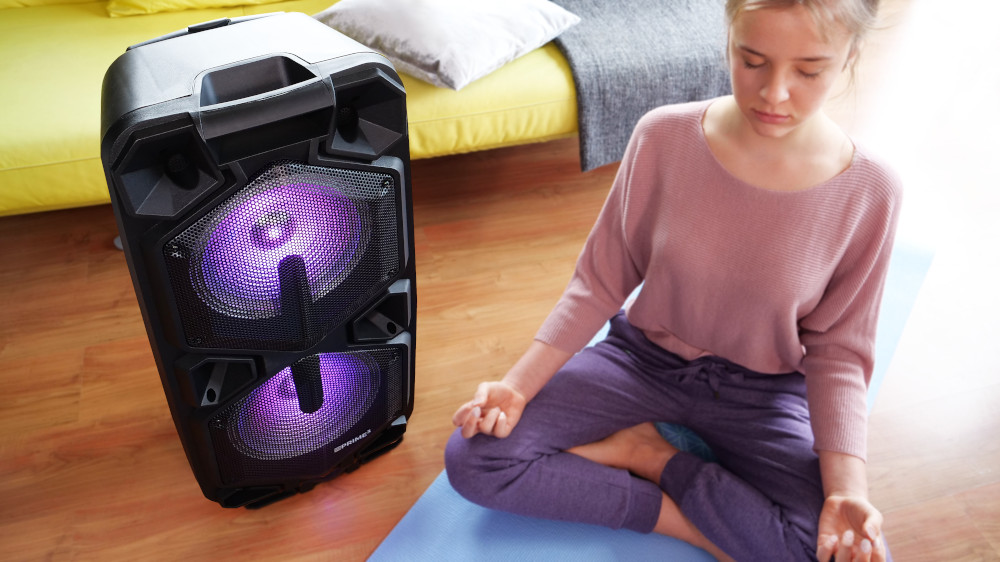 The APA20 has a built-in Bluetooth module that allows you to stream music through an audio streaming profile directly from your phone or laptop. Fitted with an SD card reader and a USB port, the device lets you listen to your favourite songs from your own playlist stored on a memory card or flash drive, and the AUX input can be used to connect the system to an MP3 player, an older computer or a CD player.
If you do not have any portable device containing music files or a Bluetooth module, thanks to the built-in FM tuner you can find your favourite radio station and listen to music anyway.  The powerful and high-quality sound is delivered by the speaker's 8000 watt PMPO output. Such high power, combined with properly configured functions, guarantees a stunning musical experience.
The system is equipped with a True Wireless Stereo function, which permits APA series speakers to be connected wirelessly. This means that music can be played back simultaneously via two APA20 speakers. With this configuration, we can get excellent quality stereo sound that can really surprise you!
The karaoke option using a 6.5 mm microphone jack just like in all professional sound systems, an additional wireless microphone, and a multicolour LED backlighting are the features that will jazz up every social occasion! Singing together in the spotlight is great fun for children and adults alike!
The loudspeaker is suitable not only for karaoke entertainment, but also for situations where we want to be heard by a larger audience, such as: in meetings, sports events, in a lecture hall or during a school assembly.
Thanks to the built-in battery, the device can be operated both in a wireless mode and when it is plugged into the mains power supply. Battery operation allows you to take the loudspeaker outdoors to throw a fantastic party outside.
The Power Audio APA20 is the ideal alternative to hi-fi tower systems, radio sets or music systems with the standalone loudspeakers!